5 Free tools each small business needs in 2019
The most critical thing a business can do is give their employees a tool to perform their job quickly, accurately, and professionally. These tools below I have found to be times savers, money makers, and show professionalism to customers. From communication, both verbally and written. Collaboration with team members or outsourced help. The right tools save you time and make your life and the life of employees more comfortable. The easier it is for them to do their job, less stress which makes an employee make fewer mistakes. Hence, the most costly problem for all businesses' is mistakes. These tools allow employees to avoid simple mistakes, find passwords, or bookmarks faster, and make communication to paying customers more quickly. All of these tools are free to use to a point, they all have upgraded features for pay, but spending money on these tools makes you more money than advertising.
Whether you are writing a document, sending an email, or creating marketing material, Grammarly is the best writing assistant out there. Since I am a horrible speller, I use Grammarly daily. Grammarly goes way beyond just checking your spelling. Grammarly checks your punctuation, the tone of your writings. Grammarly also shows you a summary of your word count, readability, and checks for plagiarism. It is a potent writing tool.
Even as I write this blog, I use the integrated extension inside Chrome. So I do not have to waste time flipping back and forth for one website to another. There also is a downloadable app for the desktop and an extension for outlook to check your emails regularly. Every small business owner should use Grammarly in some capacity. The app can be accessed through its website, your phone, Chrome, Outlook, or desktop. As a result, making it simple to use and catch mistakes faster.
Generally, we all make mistakes, and the most costly mistake is misspellings and improper grammar. I have seen fantastic marketing campaigns and useful emails that have fallen short due to these types of errors. For the most part, as a small business owner, your challenge is keeping the customers you have and acquiring new clients along the way.
If communication is poor or misinterpreted, you can lose your existing clients business or waste your money trying to acquire new business. Many of us talk a certain way, but writing is another thing as you do not have the second chance to correct yourself or set a tone verbally.
Communication to your customer should be in a professional, clear, and engaging way. Email is now the most used way of communicating, with texting second. Grammarly integrates into my iPhone, helping me text without spelling errors and provides advice on other words that may be more effective.
Grammarly also lets you know when your sentence is too passive, doesn't make sense or is improper.
For instance, your sales team is regularly in continuous communication with your clients, making you money. Although they may be great at sales, they may be awful at spelling, punctuation, or lack writing skills. Using Grammarly gives your employees the writing tool to represent your companies brand in a professional and trust-building way.
People genuinely trust someone who sounds competent, furthermore has a comprehensible message. Grammarly gives you a readability score along with setting specific goals to whom you are writing too. Thus helping your associates write emails and documents that can be understood and read easily. Goals can be set to set the tone, the formality, and the purpose of the writing. In business, some documents need to be more formal and emotional, and some need to be more creative or direct. Thus tailor-making your communication toward your established audience. 
Grammarly acts as a coach to help your writing flow, be more understandable, and in your case, more effective. So if you are not using Grammarly today, you need to sign up. Grammarly is free to use, but I highly suggest paying for the professional version, which gives you all these tools. If you are on a tight budget, pay for the licensed version for your associates that communicate the most to your clients, and use to free account for associates that do not.
 Grammarly has a fantastic new feature where they have incorporated the ability to send your copy to a proofreader. This feature is convenient if you are giving a speech, sending out copywriting or perhaps writing professionally for an e-book.  Grammarly's Plagiarism checks to makes sure your copy is genuine, double checking that no one else is writing the same thing. Nothing more embarrassing, thinking you have a unique idea or article, to find out someone else wrote something identical.
General reports also can be downloaded and sent to managers for approval or webmasters for your website or to add agencies for marketing purposes. The examples are endless, but for a small business or any business these days. Communication is critical, moreover vital to your expansion and retention of customers. Grammarly is a must-have tool for any employee, manager or owner. No one wants to look like a fool and with this writing tool ensures you will not.
Toby is a free extension for chrome users. I research so many things on the internet and my bookmarks became so cumbersome. That I couldn't remember where I had saved certain bookmarks. On top of that, some times I didn't want to bookmark a website. All I wanted to do was temporary saved the website or sometimes with larger websites, I wanted to save multiple pages for later reference. Bookmarking these types of websites over ran my bookmark manager and I started to test different bookmark managers. I am lazy, I like to see and reference items fast.
With many bookmark managers I spent more time organizing and then forgetting where I placed the bookmark. With Toby, I took a chance, downloaded it and fell in love with it. Toby saves your tabs in an easy to see and find visual format. You can be lazy like me and save all your open tabs at once, clearly your clutter of open tabs. Then slowly go through them to see which ones you want to keep or save for later reference.
I have been using Toby for the past six months and love using it. I can organize tabs in groups fast, and Toby makes it easier to find that particular website for brief references.
 I can easily save all my bookmarks for fast close out if I need to run and then later pick up where I left off. Either opening all the tabs in the saved category at once or open them individually. The drag and drop feature with the visual heading and icon makes finding lost websites a breeze.
  I found surfing some much easier using Toby and recommend any business use this extension. New business features are being added so team members can openly share websites and make collaborations easier. Importing bookmarks can make duplicates or hard to find, especially if you are sharing with, out of the office colleagues or collaborators. Toby fixes this issue.
Toby is simple and visually appealing to share tabs/bookmarks with others. Not to mention if you are out of the office and asking a coworker, support staff or manager to find a specific website, you are referencing. It saves time and hassle, not to mention confusion.
Lastpass is a password vault rememberer. I have used Lastpass for a few years now, for business and personal use. It is free to use, and there is also a paid business version to upgrade too. I like Lastpass more than other password vaults because of how easily it autofill my passwords and usernames using the Chrome browser extension.
On top of that, it is also integrated into my iPhone using touch authenticator. But the best feature is the dual authentication.

Even if you know my master password, I also need to authenticate on my phone. Lastpass makes it very secure and easy to use. Like I said before, I am lazy. Anything to make my life easier without me using the same password for everything helps. Lastpass generates secure passwords for you and then saves it in your vault.
The auto-fill feature makes signing up for websites fast and reliable. I can sign up for new sites or business-related items on the web in a quick, and secure way. Saving time and making my info safe. Every business should be at least using the free version to save and secure their passwords.
Especially when the unfortunate time comes to fire an employee, passwords can be changed, updated quickly and efficiently. It just makes sense to use a password vault like Lastpass. There is even a feature to share a password without giving the password out. You can select the option of the receiver to see the password or not, keeping it encrypted for temporary use.
In today's fast pace, I need you right now business. No longer can you retain customers if they cannot reach you right away. They will call someone else until they can talk, text, or be replied by email these days. It's a cut-throat way of business. No matter if you an army of one or you have 20 employees. Customers need an immediate response to concerns, questions, and answers. If you are a small business still giving out your personal mobile number, you are way behind the times. Every business should be using a cloud-based phone system like RingCentral. Ring central is just not for answering phone calls like old systems did. Phone management systems would route calls to extensions and that's it. But in this day and age of doing business.
Customer text a lot more than emailing and calling you. This can be overwhelming if you are giving your personal number out. Not to mention, you are not covering your bases in your business. RingCentral not only routes phone calls to landline or to your mobile phone. It allows call recording, which I found is highly beneficial when you have picky pain in the ass customers. I have used call recordings to settle disputes and questions on who said what. It really nips arguments in the bud quick and fast. RingCentral also always conference calls, fixing, call forwarding, video meeting and virtual numbers. RingCentral's' most important features that can give you an advantage over competitors is the call logs, call recording, and virtual numbers. Call logs tools allow you to see what your employees are doing, especially with sales agents, to see if they are making contact with clients.
Ringcentral gives you the flexibility to call, message, and meet from any of your devices, whether you're remote or in the office. Work on the go, anytime, wherever you can get an internet connection.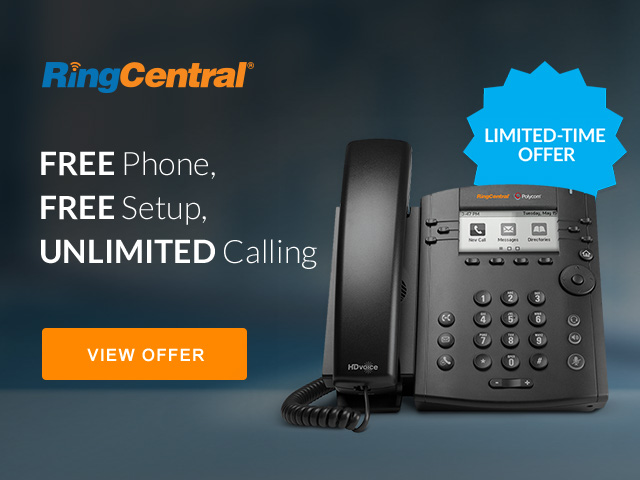 Virtual numbers allow you to give numbers out at those conferences or expos where you want not to give your main number out or if you have temporary employees or 1099. Like I stated before, call forwarding, and call recording have saved more business transactions than I can remember. RingCentral also always for instant messaging in a central place rather than on your personal phone.
RingCentral will make your life much more comfortable, more straightforward, and more manageable. Not to mention, gives your customer the illusion of a larger company, the ability to grow and shows professionalism.
Lucidchart is a free chart and mind mapping software. Just like the others on this list, there is a professional version to pay for if you want more tools and capabilities.
I have used both and have found the free version has a lot to offer any small business although free accounts are limited to 3 active documents. There are ways of getting around that. The paid version allows unlimited access and sharing of documents. I used Lucidchart to make websites by designing a visual layout; I also have used it to do mind mapping and to create plans. It is a simple drag and drops on a cloud-based system. Great for sales, managing, flow charts, mind mapping, and designing website or user interface flow diagrams. Using chart systems like this, allows a small business to take ideas and put them in a way for everyone to understand.
Small business can utilize this free powerful tool by giving employees the ability to create a wide range of ideas to customers. There are pre-made managerial tools to manage employees and sales funnels. These pre-built templates include action plans, methodology flow charts, project planners, roadmaps hand the ability to create dynamic diagrams to show complex reporting.
Lucidcharts is a tool every small business or startup should be using. It saves times, saves your work to be accessed anywhere, integrates into google docs, and gives you the ability to take concepts to paper quickly. I find tools like these quite empowering since there is a multitude of ways to utilize this software. Making it the swiss army knife of ideas and strategic movements in business.
Related posts